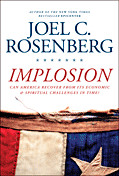 My Review:
Joel Rosenberg writes another book that could be taken from the morning news. I have enjoyed reading his past published books and enjoy listening to him speak and teach on the radio/internet. In this new book, Joel gives a well researched look at diverse, possible scenarios that may spell an end to America as the leading nation of the world. Each of these future challenges are supported with fact-based statistics that show chilling trends for our nation. In each case, however, Joel also states some possible solutions that may help turn us around, in accordance to GOD's will and timing. Joel then gives us a brief example from a historical perspective on the Great Awakenings (of the 18th and 19th centuries), and the hope that GOD may yet slow or postpone the judgments on the United States.
He ends his book with helpful and thought-provoking suggestions (guidelines) for the believer for self-examination, and Scripture to study for effective prayer for our nation, leaders, and any soul we may be able to reach with GOD's love.
I was left with the desire to re-read some chapters in this book and anticipation to read his new fiction novels.I would heartily recommend this and all of Joel Rosenberg's books, particularly, if you are interested or concerned with national and world events--just around the bend.
The Trailer:
The Blurb:
Bestselling author and international political expert Joel C. Rosenberg tackles the question: Is America an empire in decline or a nation poised for a historic Renaissance?
America teeters on a precipice. In the midst of financial turmoil, political uncertainty, declining morality, the constant threat of natural disasters, and myriad other daunting challenges, many wonder what the future holds for this once-great nation. Will history's greatest democracy stage a miraculous comeback, returning to the forefront of the world's economic and spiritual stage? Can America's religious past be repeated today with a third Great Awakening? Or will the rise of China, Russia, and other nations, coupled with the US's internal struggles, send her into a decline from which there can be no return?
Implosion
helps readers understand the economic, social, and spiritual challenges facing the United States in the 21st century, through the lens of biblical prophecy.
About Joel:
Joel C. Rosenberg is the
New York Times
best-selling author of seven novels—
The Last Jihad
,
The Last Days
,
The Ezekiel Option
,
The Copper Scroll
,
Dead Heat, The Twelfth Imam,
and
The Tehran Initiative
—and two nonfiction books,
Epicenter
and
Inside the Revolution
, with more than 2.5 million copies sold.
The Ezekiel Option
received the Gold Medallion award as the "Best Novel of 2006" from the Evangelical Christian Publishers Association. Joel is the producer of two documentary films based on his nonfiction books. He is also the founder of The Joshua Fund, a nonprofit educational and charitable organization to mobilize Christians to "bless Israel and her neighbors in the name of Jesus" with food, clothing, medical supplies, and other humanitarian relief.
As a communications advisor, Joel has worked with a number of U.S. and Israeli leaders, including Steve Forbes, Rush Limbaugh, Natan Sharansky, and Benjamin Netanyahu. As an author, he has been interviewed on hundreds of radio and TV programs, including ABC's
Nightline
,
CNN Headline News
, FOX News Channel, The History Channel, MSNBC,
The Rush Limbaugh Show
,
The Sean Hannity Show
, and
The Glenn Beck Show
. He has been profiled by the
New York Times
, the
Washington Times
, the
Jerusalem Post
, and
World
magazine. He has addressed audiences all over the world, including those in Israel, Iraq, Jordan, Egypt, Turkey, Russia, and the Philippines. He has also spoken at the White House, the Pentagon, and to members of Congress.
In 2008, Joel designed and hosted the first Epicenter Conference in Jerusalem. The event drew two thousand Christians who wanted to "learn, pray, give, and go" to the Lord's work in Israel and the Middle East. Subsequent Epicenter Conferences have been held in San Diego (2009); Manila, Philippines (2010); and Philadelphia (2010). The live webcast of the Philadelphia conference drew some thirty-four thousand people from more than ninety countries to listen to speakers such as Israeli Vice Prime Minister Moshe Yaalon; pastors from the U.S., Israel, and Iran; Lt. General (ret.) Jerry Boykin; Kay Arthur; Janet Parshall; Tony Perkins; and Mosab Hassan Yousef, the son of one of the founders of Hamas who has renounced Islam and terrorism and become a follower of Jesus Christ and a friend of both Israelis and Palestinians.
The son of a Jewish father and a Gentile mother, Joel is an evangelical Christian with a passion to make disciples of all nations and teach Bible prophecy. A graduate of Syracuse University with a BFA in filmmaking, he is married, has four sons, and lives near Washington, D.C.
To visit Joel's weblog—or sign up for his free weekly "Flash Traffic" e-mails—please visit
www.joelrosenberg.com
.
Please also visit these others Web sites:
www.joshuafund.net
www.epicenterconference.com
and Joel's "Epicenter Team" and the Joel C. Rosenberg public profile page on Facebook.
*~*~*~*~*~*~*~*~*~*~*~*~*~*~*~*~*~*~*~*~*~*~*~*
I hope you enjoyed my husband's review of Implosion by Joel C. Rosenberg.
Blessings,
**This review is my Husband's honest opinion of
Implosion
by Joel C. Rosenberg and provided for free by
Tyndale House Publishers
in exchange for an honest review.