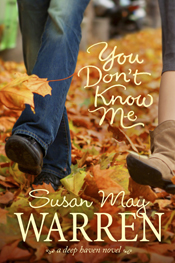 My Review:
Annalise has left her past behind her, living in Deep Haven for 20 years. In those years she'd married Nathan, a real estate agent and mayoral candidate. Together they built a life that includes three children, and many good friends. The perfect life, or so she thought, until Annalise notices someone from her past sitting in the local coffee shop; where she had just purchased a cup of coffee.
You Don't Know Me
by Susan May Warren had me hooked from the moment I began reading the prologue. Unfortunately for me, after I read the prologue, I decided to read the author's note, bad idea, because by reading the author's note first the surprise of discovery was lost for me. I kept reading even still and found myself reading until deep into the night to finish the story.
I felt connected to the characters, they felt real, and were dealing with everyday problems. As well as, not so every day problems. One of the main themes in this book was secrets and lies, and how they damage everything they touch. The another major theme is forgiveness: God's forgiveness and forgiveness for those who have hurt you. Lies and secrets destroy, but bringing lies and secrets into the light brings healing.
I do not remember reading any other books by Susan May Warren, but now that I have read
You Don't Know Me
, I will definitely choose to read more of her books. I loved how the characters jumped of the page and into my imagination. Someone once said something like this: reading is like a movie playing in your imagination, well I believe that Susan May Warren has the incredible talent to write in such a way that makes this saying so very true. I highly recommend this book and look forward to revisiting Deep Haven.
About the Book:
A Deep Haven Novel
Sometimes the secrets we keep to protect ourselves can be our undoing.
To all who know her, Annalise Decker is a model wife and mother. She's a permanent member of the PTA, never misses a sporting event, and is constantly campaigning for her husband's mayoral race.
No one knows that Annalise was once Deidre O'Reilly, a troubled young woman whose testimony put a dangerous criminal behind bars. Relocated through the Witness Security Program to the quaint harbor town of Deep Haven, Deidre received a new identity and a fresh start, which began when she fell in love with local real estate agent Nathan Decker.
Twenty years later, Annalise couldn't be more unprepared for her past to catch up with her. When Agent Frank Harrison arrives with news that the man she testified against is out on parole and out for revenge, Annalise is forced to face the consequences of her secrets. Will she run again, or will she finally find the courage to trust those she loves most with both her past and her future?
About Susan:
Susan May Warren is the RITA award-winning novelist of over thirty novels. A five-time Christy award finalist, a two-time RITA Finalist, she's also a multi-winner of the Inspirational Readers Choice award, and the ACFW Carol Award.
A seasoned women's events speaker, she's a popular writing teacher at conferences around the nation and the author of the beginning writer's workbook: From the Inside-Out: discover, create and publish the novel in you!.
Find out more about Susan May by visiting her
visiting her website
.
Would you like to read what others are saying about You Don't Know Me?
Would you like to buy the book?
*~*~*~*~*~*~*~*~*~*~*~*~*~*~*~*~*~*~*~*~*~*~*~*
Win a $200 Weekend Getaway from @SusanMayWarren! RSVP for Facebook Author Chat Party on Oct. 23rd!
**
The Facebook Party for Susan May Warren's You Don't Know Me is Rescheduled for a date TBA in December.
**
Welcome to the campaign launch for Susan May Warren's latest offering in her beloved Deep Haven series, You Don't Know Me.
Susan is celebrating with a $200 Weekend Getaway Giveaway and hosting a fun video Author Chat Party!
One fortunate winner will receive:
A $200 Visa Gift Card (Use that to catch up with a loved one and "Get to Know" your spouse, friend, sister, mom…whomever!)
The entire set of Deep Haven Books
Enter today by clicking one of the icons below. But hurry, the giveaway ends on October 22nd.
Winner will be announced at the
"You Don't Know Me" Author Chat Facebook Party on 10/23
. Connect with Susan for an evening of book chat, Deep Haven trivia, and a live video chat! There will also be info about Susan's BookShout read-along and a chance to win gift certificates, books, and other fun prizes!
So grab your copy of You Don't Know Me and join Susan on the evening of the October 23rd for a chance to connect and make some new friends. (If you haven't read the books – don't let that stop you from coming!)
Don't miss a moment of the fun, RSVP today. Tell your friends via FACEBOOK or TWITTER and increase your chances of winning. Hope to see you on the 23rd!
Blessings,
**
You Don't Know Me
by
Susan May Warren
was provided for me free by
Litfuse Publicity Group
in exchange for my honest review.