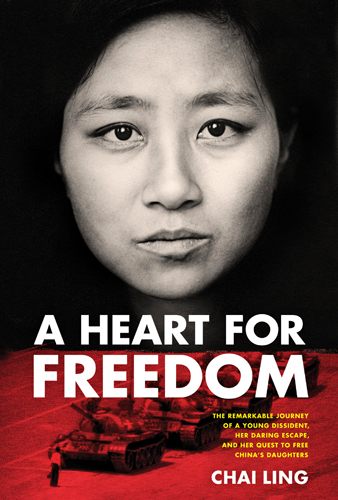 The Blurb:
The dramatic and fascinating story of Chai Ling, commander-in-chief of the student protesters at Tiananmen Square and witness to the massacre of thousands of Chinese civilians. Risking imprisonment and possible death for her leadership role in the student democracy movement, she was on the run in China for ten months while being hunted by the authorities. She eventually escaped to the U.S., completed her education at Princeton and Harvard, found true love, and became a highly successful entrepreneur. But her desperate quest for freedom, purpose, and peace—which she had sought in turn through academic achievement, romantic love, political activism, and career success—was never satisfied until she had an unexpected encounter with a formerly forbidden faith. Her newfound passion for God led to her life's greatest mission: Fighting for the lives and rights of young girls in China.
My Review:
Growing-up in America it is hard for me to imagine the things that the people of China have experienced. I have read books about missionaries who have ministered to the people who live there, I know that missionaries have a love for the people they are called to serve. They wouldn't go if they didn't. Chai Ling, grew-up in China and has a love for her homeland, as well as, for the people that live there that grew out of her personal experiences of being raised and schooled in China.
Chai Ling's involvement and leadership in the Tiananmen Square protests were because of her love for China. She was forced to leave her homeland after the Tiananmen Square Massacre, and eventually came to America. She could have turned her back, not taken part in the protests, and then she would probably still be living the life her parents pictured for her, but God had other plans. After she came to America she continued her education, and obtained the work experience that prepared her for the work that God had created her for: helping Chinese women and girls, through her work with All Girls Allowed. The most compelling part of Chai Ling's story is how God drew Chai Ling to HIM and her journey to her belief in Jesus as her Lord and Savior.
About the Author:
Chai Ling
Chai Ling was a key student leader in the 1989 Tiananmen Square movement. Today, she serves as founder, president, and COO of Jenzabar, Inc., a leading higher education software services provider. She holds an MBA from Harvard Business School, an MPA in public affairs and international relations from Princeton University, and a BA in psychology from Peking University. She has been nominated twice for the Nobel Peace Prize. Chai Ling is founder of All Girls Allowed (www.allgirlsallowed.org), an organization dedicated to restoring life, value, and dignity to girls and mothers and revealing the injustice of China's one-child policy.
**A Heart For Freedom: The Remarkable Journey Of A Young Dissident, Her Daring Escape, and Her Quest To Free China's Daughters by Chai Ling was provided for me free by Tyndale House Publishers in exchange for my honest review.